para-lab
In 2017, I formed para-lab alongside Andrew Wilson, an organisation which experiments with the 'how' of art and science collaborations. We work with an interdisciplinary mix of natural scientists and artists who all become part of the para-lab collective.
We run sessions in art studios, science labs, and disciplinary-neutral spaces such as the city streets or on the moors. In order to facilitate collaboration, we have developed our 'Idea Generation Sessions' where participants learn about each others' research and go through a series of making exercises. The structure of the sessions allows starting points for projects to emerge and collaborations to form. As a result of these sessions, we now have six working groups, exploring an array of interdisciplinary themes. In addition, we also run field trips, workshops, reading groups and talks, which allow for shared experiences and discussion but without the pressure of any tangible output.
To find out more about the sessions we've run and the working groups, look at our website in development here.
Central Engine Maintenance Performance
First commissioned by Castlefield Gallery for their Miniature World exhibition, Central Engine Maintenance Performance went on to be further developed for KOSMICA: Ethereal Things (organised by KOSMICA Institute and Arts Catalyst). The performance involves the demonstration of a sculpture attempting to model a black hole accretion disk. It is activated when a fire extinguisher is released to produce dry ice which then pours from the orbiting vessel and curves into the spinning fan. Whilst operating the sculpture, I talk to viewers about black holes and the inherent failure involved in attempting to model them in three dimensions.
Arctic Circle Residency
In 2015, I was selected to participate in an annual expeditionary residency program to explore the high-Arctic Svalbard Archipelago and Arctic Ocean aboard a specially outfitted Barquentine sailing vessel. My place was part-funded by the Arctic Circle, and I was also awarded an Arts Council England grant for research and development in the lead up to the trip.
You can read my account of the experience here.
 Stirling Engines
Stirling Engines was shown at 'Shed Show', ToastWillHost, Manchester, curated by Taneesha Ahmed and 'Potential in the Ordinary', ROCKELMANN& Gallery, Berlin, curated by Leen Horsford.
I received an Arts Council England grant to develop new work for 'Shed Show' exploring the labour of hobbyists. The Stirling engine, conceived in 1816, is powered by a temperature differential. Although very efficient, Stirling engines were never able to compete with the power of steam and internal combustion engines in industry. Building Stirling engines has now become the domain of hobbyists. Thousands of people, all around the world, build these engines for pleasure. These engines, more often than not, do not power anything, they simply work for the beauty of working. The work is completed by a performance/demonstration where I operate and explain the engines to viewers.
Here's a video of the engines working at 'Potential in the Ordinary' ROCKELMANN& Gallery, Berlin:
Testing the Field
Testing the Field was an experiment in interdisciplinary learning in the wild, for which I was awarded a funded scholarship from Manchester Metropolitan University. It involved taking a combination of art students and science students on a trip to Middlewood Trust, where they lived off-grid over a long weekend and took part in a series of interdisciplinary experiences and workshops. Here's me and Rachel talking about the project for CELT's Good Practice Exchange with some footage from the weekend:
The project was presented as posters at the HEA STEM Conference, Newcastle and the  European Geosciences Union General Assembly, Vienna. There was also a film produced, which can be viewed here.
Concept Models
Concept Models explores the work of scientists, and in particular the intellectual work of having to explain and simplify complicated or abstract concepts. The sculptures are representations of different scientific models, which, in themselves, represent scientific laws. For example, the theory of general relativity is often explained using the rubber-sheet model; the curvature of gravity is 'like' the curvature of a rubber sheet when a weight is placed on it. The very act of using an analogical model involves inherent failure. The science is compromised yet again by the artist, who takes the basics of an explanation of a principle and does what is needed to make it 'work'.
Guarding Work
Filmed during a residency to the Arctic Circle, this 3-channel video depicts the guides going about their work – protecting the artists from polar bears as they carry out their 'projects'.  You can watch the videos here.
Production Rings Pyramiden
The video Production Rings Pyramiden was filmed in the dark basement of the swimming pool at an abandoned Russian coal mining town in the Arctic Circle.
Art & Science Critical Forum
Between 2015 and 2017, I ran a series of informal symposiums in Manchester, supported by Arts Council England, where practitioners who critically engage in art and science could share a current project, connect with each other and discuss their work. Speakers included Nahum (KOSMICA), Alice Sharp (Invisible Dust), Dave Griffiths, Sam Illingworth, Vicky Clark, Laurence Molley (The Superposition), Manchester Astronomical Society and many more.
Work Done
Work Done explores the concept of 'work'.  Each incarnation is different, with an object from the gallery used to determine the height of the work. In this case, shown at Oktogon Gallery in Dresden, 160 joules of work was put in to overcome gravity and lift the 'block of art' from the floor to its current position.
 Production Rings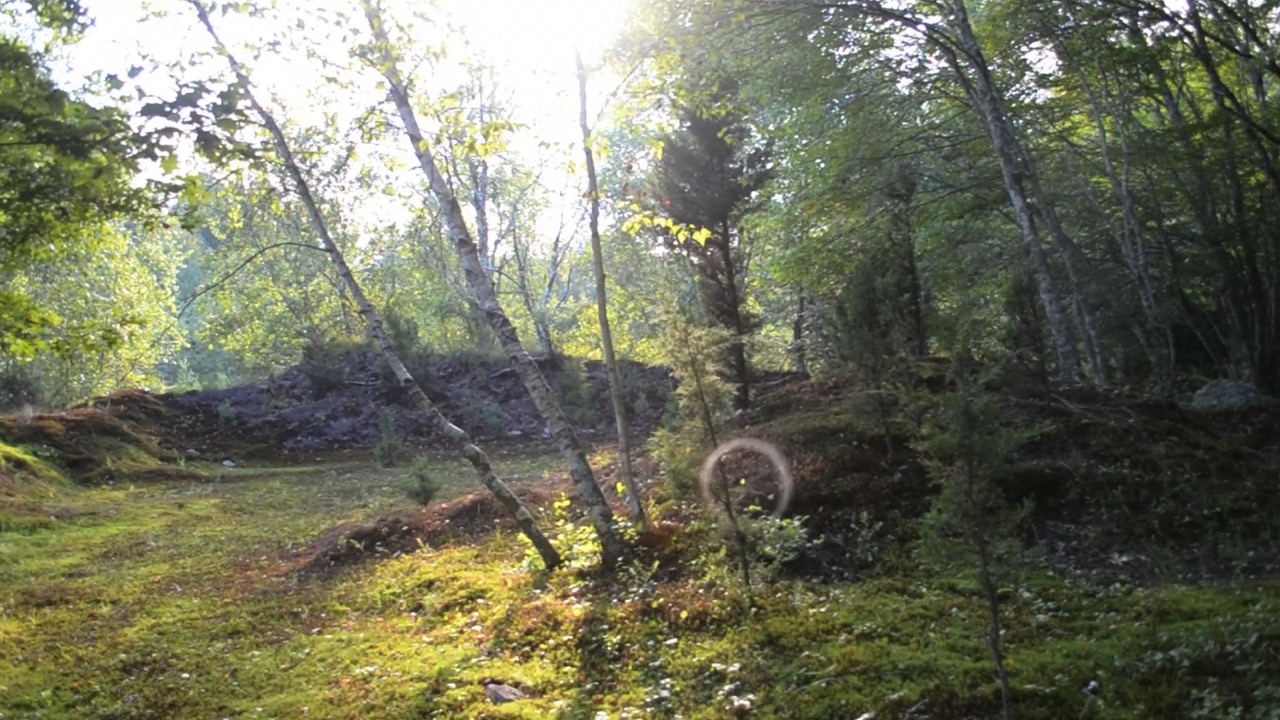 In 2013, I was selected to participate in a funded residency programme at I-Park, Connecticut. I developed a series of four videos, all depicting a different scene – a clearing, a pine forest, a pond and a meadow. Shot with a DSLR on a tripod, they resemble photographs, as the only action occurring is the occasional, but regular, entrance of a smoke ring, released from behind the video camera, appearing as a rhythmical timecode. You can view the videos here.