As part of a programme of wider activities, para-lab organise regular excursions where the full collective of members are invited to come together for workshops, exercises, collective endeavour or exploration. These trips aim to test methods for enhancing exchange across disciplines, disrupting unhelpful dichotomies which traditionally emerge when artists collaborate with scientists. The excursion design attends to power imbalances which can exist amongst academics and cross-disciplinary groups by operating in a sphere between work and play. Participants are encouraged to bring their children, partners, dogs or friends along with them, further removing them from their 'professional' lives.
In June 2022, para-lab organised its first overnight excursion to Allenheads Contemporary Arts (ACA) in Northumberland. I've worked with ACA for a number of projects (Beyond, Continuum and Call Centre) and feel a strong connection to the place and the people that run it: the wonderful Helen Ratcliffe and Alan Smith. ACA specialises in delivering innovative contemporary art in their unique rural setting. They have an exciting history of engaging with science and scientists, with many of their recent projects inspired by the dark skies enjoyed in that part of the world. In 2017 they built an onsite astronomical observatory, giving artists a rare opportunity to engage directly with observational astronomy on their own terms. 
On Saturday morning, we embarked on our first adventure, a trip underground to explore Nenthead Mines. We employed the services of Ally Hetherington to guide us around the complex system of tunnels and impart his knowledge of the industrial and geological history of the area. Ally likened the experience to going to the Moon and assured us that any nervousness or claustrophobia would soon dissolve once we became absorbed in the fascinating process of journeying and discovery.
Nentheads mines operated from around 1690 when a large vein of lead was discovered. Lead continued to be mined there until the late 19th century when it was largely replaced with zinc mining, finally ceasing operations in 1961. Much of the industrial archeology remains, including cart tracks, hydraulic pipes, and the remains of wooden beams used to test for compression or expansion of cave walls (many of them worryingly warped under pressure!). There are various deep shafts off the main tunnels and macabre stories of lost children to accompany them.
At one point we stopped and turned off our head torches. Ally led a couple of perceptual experiments where we tested what we thought we could see in absolute darkness. It's amazing how the human brain fills in the gaps when devoid of perceptual information. It made me think of Antony Hall's perceptual illusion experiments as part of his practice-based PhD research.
After a couple of hours we arrived in the 'Ballroom', a vast cavern which was cut out of solid limestone by lead miners. The Ballroom gets its name from an event that took place on September the 2nd 1901 when around 30 local people travelled into the mine for a village dinner party and dance. This is the place where Alan Smith, Louise K Wilson, John Bowers and Peter Mathews spent 72 hours for the project Chthonic.
In the end, we spent over 4 hours underground (although it felt like much less) observing, discovering and collecting mineral deposits (gunk!) off the walls for our afternoon activity. Ally was right, it does feel like an alien environment: temperature, time, distance, sight and sound all take on a strange otherworldliness. It is one of those places where you are reminded, in a tactile and material way, that we exist on a very special planet, and occupy a small moment in its vast history. The cognitive dissonance created by the experience is something we'd like to explore further with different sites for future excursions.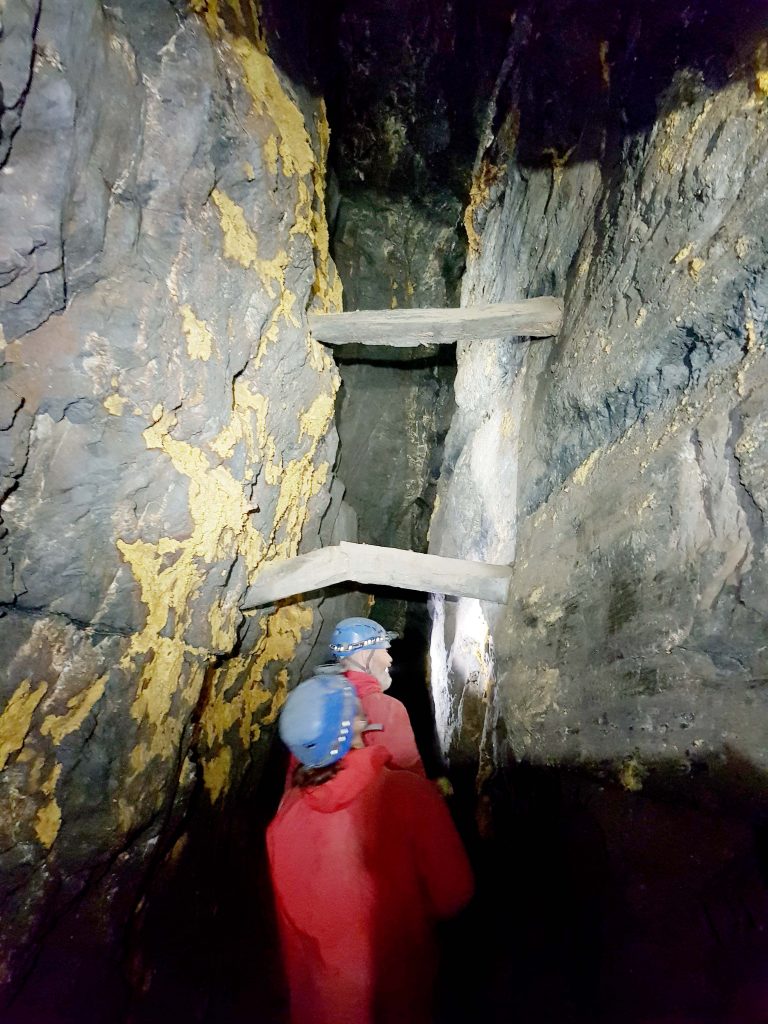 In the afternoon, material scientists Aled Deadkin Roberts, Aoife Taylor and Helen Park led a workshop where we attempted to invent new biomaterials as alternatives to concrete. The workshop was a result of a para-lab working group research project 'BioMaterials', which has been devising a range of bio-based composite (biocomposite) material concepts. The workshop began with a foraging expedition in the area behind ACA. The act of getting out into 'nature' gave us the impression of being somewhere very wild and remote, yet in reality ACA is an old school nestled into a hill behind which is a plantation forest of pine trees due to be felled at any moment. Beyond that is miles of managed moorland used for grouse shooting. This is a huge industry in the area and completely dominates the landscape and local economy, especially in hunting season. So much of what we foraged were the plants, mosses and materials which have snuck in between the gaps of this very unnatural, human-controlled landscape. A little more of that cognitive dissonance perhaps?
We came back with various natural materials to experiment with. Alongside the foraged materials were various other powders and concoctions, such as potato starch, spirulina and synthetic moon dust (and the cave gunk, of course). The basic idea is that you have an aggregate, combine it with a binder, compress using a syringe and then dry it out on a heat plate. You can then put the new material through various experiments to test its suitability as a potential building material.
On Saturday night, I led a tour of the night sky for anyone who was still awake by the time it got dark (not until around 1am due to being so close to the solstice). I ran through the main summer constellations and methods for how to find them. We also just lay on our backs doing nothing but looking up for a while. Some shooting stars were spotted. Again, as with all of the planned activities, this gave us a sense, in a very material way, of the reality of our place in the wider universe.
On Sunday morning we embarked on a hike to the highest Pennines summit in Northumberland, Killhope Law, led by artist Michelle Harrison. Michelle is a keen rock climber and mountaineer who has recently trained as a climbing instructor. In recent years her art practice has shifted from painting to a more experiential practice involving hiking and climbing inspired by ideas around the haptic sublime. All started well as we hiked through farmland and up onto the summit. The idea was that we would walk a triangle, taking in another nearby peak and then back down another route into the village. 
Once we got to the first summit though, we decided a circular walk, just completing one summit, would be more appropriate for our energy levels and time. Unfortunately we got a bit lost trying to find the route back and ended up marching straight across heather moorland, which was quite hard going, especially for those wearing sandals!
But we made it and the outdoor adventure served to successfully break down any sense of 'us' and 'them' between artists and scientists and any power imbalances were around who had worn the appropriate gear or brought enough food. There was a strong sense of collective achievement when we made it back to the village, made all the more satisfying by the physical and mental endurance we unexpectedly faced. This notion of embracing the unexpected is something we'd like to explore more, and leading groups in outdoor adventures seems a good way to do this.